Published version: Final version of the publication produced by the publisher. The layout of published version is formatted by the publisher, with the volume, issue, page number and publisher's logo displayed.

Accepted version: also known as Post-print version, author's final manuscript of the publication after peer review with revisions having been made, before it is sent off to the publisher for publication. The layout of accepted version is unformatted, with default page numbers but usually without publisher's logo.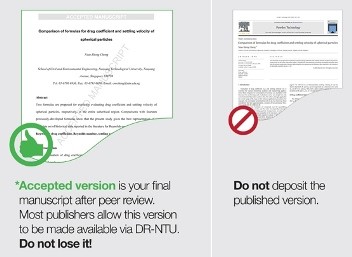 Pre-print version: Author's complete manuscript before peer review.
Before you submit your paper to DR-NTU, please check your publisher's website or the Sherpa Romeo website about their self-archiving policy to ensure that they allow you to do self-archiving and you have submitted a proper version.
Views:
FAQ Views: 25